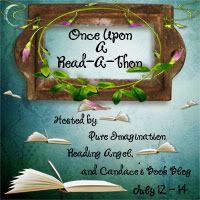 I'm hosting a mini challenge/activity today for the read-a-thon and I wanted to make it about something that my sister and I never agree about:
"Books made into Movies"
I love to watch movies based on books even if the movie is totally different than the book. I know this bothers a lot of people like my sister. I just get very excited when I hear a book that I love will be made into a movie or a TV show, I love it!
Some examples of movies/TV shows that are very different from the books and I really enjoy watching them are:

True Blood
The Vampire Diaries
Percy Jackson and The Lightning Thief
So here are the details:
*You must be signed up for the read-a-thon*
In the comments tell me the name of a book or series that you would love to see get made into a movie or a TV show and your cast choices for the main characters. You can even make a little mini post if you want and post pics/links, go to
storycasting.com
, or just tell me your choices in the comments, it's up to you. Just make sure you post on the comments the links or your answer and leave an email address so I can contact you!!
*Winner will be chosen by random.org this Friday 7/16 and will get to pick one (1) book under $20 from
The Book Depository*