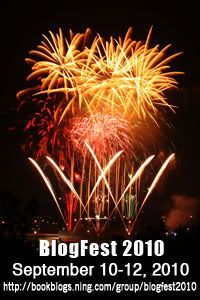 BlogFest 2010 is being hosted by
A Journey of Books
so make sure you stop by there and check out the rest of the participating blogs to enter their givewaways! There will also be a link to the website where you can track your progress and be entered to win a massive giveaway from them. There's over 200 blogs doing giveaways this weekend.
Thanks for taking the time to stop by my blog!
-INTERNATIONAL-
A brand new hardcover copy of
Hex Hall
by Rachel Hawkins(I love this book!), a swag pack of bookmarks and stickers, a poster of the Japanese cover of
The Demon's Lexicon
by Sarah Rees Brennan, and a pair of wing earrings with swarovski crystals from my Etsy shop.

And

~A Pre-Order of Demonglass, the sequel to Hex Hall~
*Please make sure The Book Depository delivers to your country*
*Rules*



Make sure you fill out the

form

to be entered on the giveaway.




Like always following the blog is NOT required to enter.




Extra entries like tweeting are also NOT required but are greatly appreciated and will be counted as one(+1) entry , just make sure you leave the link on the form.




Giveaway ends September 12, 2010 at Midnight CST.
*Contest has Ended*
That's all!! Have fun and make sure you stop by the next blog on the BlogFest run and enter their giveaway: